This iconic 90's sitcom character aligns with our next language, POWER
Now, most of you will remember "no soup for you!" The Soup Nazi from Seinfeld. This was the most identifiable powerful chef on modern-day TV that still is referred to today.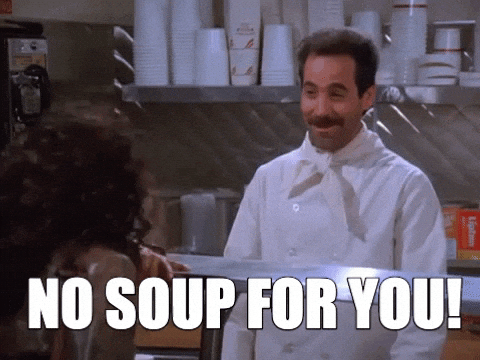 What did he align himself with as a brand? A power brand. The language of competence.
A power brand is about shaping and developing the authority that you have in the marketplace.
To apply power in your messaging to reach your ideal client, you must have a reputation, knowledgeable authority and showcase your experience to guide your customers to believe in you.
What do you confidently know is true based on your unique knowledge and experience?
A power brand leads the way, shows goals and operates from the voice of authority.
If you want to be powerful, you must be ready to competently own your value in the marketplace.
Powerful companies, like powerful people, have a strong point of view, which is the same for your marketing. Powerful brands are not afraid to lead the pack.
So why do we follow leaders? Why do we admire them and even obey them? It's because we are in love with that raw talent of standing for something. We know that whoever we're following has a specific goal and a voice of authority.
If you're ready to use your powers for good and not evil and lead the way for your clients, power is your brand. If you want to know how to apply it to your marketing and reach those powerful clients, attend our FREE 7 Ways to Have Your Clients Fall in Love With You Masterclass on February 16th at 9am PST to find out how, or book a call where we will actually go through your assessment. Don't worry if you miss the masterclass - sign up for the replay and get bonus client cheatsheets!